Welcome to The Dark Side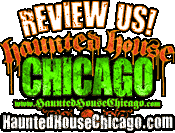 Our family farm was established in 1849 by an Irish settler name Charlie Murphy. He soon realized the fate that eventually befalls all the owners of this farm; for Charlie and his family disappeared, as do all the families who have lived here since. Come take a tour of our farm and discover the fate of all the families who came before. Can you survive longer than they did?
One of the Top 13 Haunted Houses at HauntedHouseChicago.com for the last 2 years!
Now a Screampark with
5 haunts for 1 low price!
---

10/25/2012 :: 06:57 PM

Closing Early 10/25

Due to inclement weather and the safety of our guests we are closing early tonight. We apologoize for any inconvenience. We will be open both Friday 10/26 and Saturday 10/27 and look forward to seeing you then.

-The Dark Side Management




---

10/19/2012 :: 12:27 PM

Open tonight!

We are OPEN tonight, Friday October 19th. The rain has stopped here and the sun is trying to peak out. Join us tonight for some fun and lots of scares!




---

10/13/2012 :: 02:50 PM

We are open tonight! Saturday Oct 13.




---

10/04/2012 :: 11:17 AM

Online Ticketing

Unfortunately our online ticketing company went out of business without telling us, so this year we will not be offering online ticket sales. We do accept credit cards at the door. Sorry for any inconvenience, and thank you for your continued patronage.




---

09/29/2012 :: 02:52 PM

Online Ticketing

Sorry for any inconvenience but currently our Online Ticketing is NOT WORKING, so you can't purchase tickets online. We are doing everything we can to get our ticketing up and running as soon as possible. We accept Credit/Debit cards, as well as cash, at the door. Hope we see you this weekend!




---

09/29/2012 :: 08:59 AM

The Dark Side Haunt




---

06/24/2009 :: 01:00 AM

Stay Tuned...

...for 2009 information about The Dark Side Haunted Adventure!